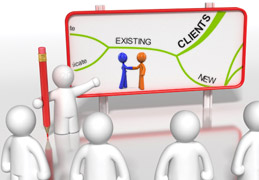 I gave a speech at a wedding last year. It was terrifying. Having spoken in front of everyone from CEOs to UN Officials, I can tell you that speaking at someone's wedding tops the scary list. The words you utter will be woven into lifelong memories and repeated to grandchildren in decades to come. It is, however, an excellent lesson in public speaking.
I had left no time to prepare my speech, having spent months worrying that I would have nothing to say. I was flying straight from a ThinkBuzan course in Amsterdam to the wedding in Wales and I was going to have to write the speech en route. What meager sentiment could I cobble together on the back of a course agenda?
Whilst the Best Man had pages typed out and hours of preparation under his belt, I arrived with only a torn piece of paper with a scribbled Mind Map I'd drawn on the plane. What I didn't realise was that this was my secret weapon. This tattered scrap in my hand was why I would avoid making the worst mistake in public speaking…

Here's what happened…The Best Man stood up clutching four or five A4 pages of tearjerking sentiment and hilarity. By all rights the audience should have been a blubbering mess by the end…but they weren't.
It was impossible to get absorbed in what he was saying when his eyes didn't leave the page. The halting monotone of his voice meant that rip-roaring jokes at the Groom's expense were missed because the audience couldn't distinguish the humourous moments from the serious. Most were just praying for him to get through the whole document without stumbling on the longer sentences – a bit like watching ice skaters perform double axles.
It wasn't awful by any means, but it wasn't engaging either and I can't remember a word of it now. It didn't do justice to all the time and effort he had put in.
That carefully written speech that he held in his hands was the albatross around his neck. His eyes were drawn to it; he couldn't help but read it because it was there. Everything he said came out sounding stale and scripted.
Then I stood up, with my very scruffy Mind Map that I tried to keep hidden behind an ice bucket. It was not a large map, only 5 main branches covering such topics as 'Childhood', 'Couple' and 'Warnings', with keywords curving outward to prompt me on particular anecdotes I wanted to mention.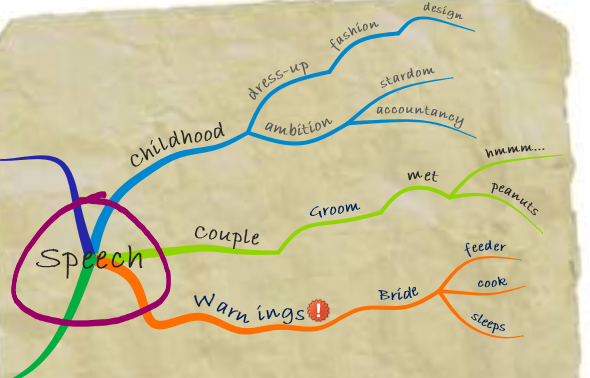 Because there were no sentences on that page, I could not read it. So I looked out at the audience. As I wasn't reading, my speech had a more conversational rhythm. I could see the audience and feed off their reactions. If they laughed at something, I would draw out that story a little longer. If they looked blank, I moved swiftly on.
Those 40 structured words on my Mind Map were there to keep me afloat, not drown me like the weighty 800 word essay held by the Best Man.
Now I'm not saying my speech was up there with Winston Churchill or Steve Jobs, but it was memorable for the people there and it took me less than an hour to prepare. So next time you have to deliver a presentation at work, or a speech in front of your peers, try preparing less and just use Mind Mapping to plan it and deliver it.
You can download iMindMap Mind Mapping software for free today from www.thinkbuzan.com