Using iMindMap Ultimate or Home & Student on your desktop? Well now you can take your ideas with you, wherever you go, with iMindMap Cloud & Mobile
iMindMap Cloud & Mobile lets you map ideas on the move, with access to iMindMap on any iOS or Android phone or tablet. Plus, you get access to iMindMap Cloud to sync and share your Mind Maps across all devices.
Capture, share and present ideas with full access to your iMindMap, wherever you are.
Get a 12 month subscription: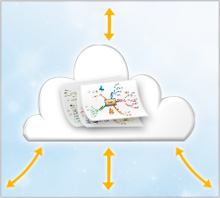 iMindMap Cloud
Store and sync your maps in iMindMap Cloud so you can access them from all your devices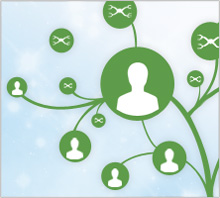 Contacts & Sharing
Connect with other iMindMap users to share Mind Maps, work together and develop ideas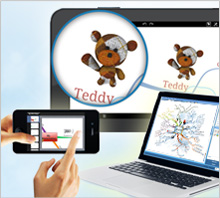 Premium Mobile & Web
Log into iMindMap apps on web browsers, iOS or Android devices & get the full feature set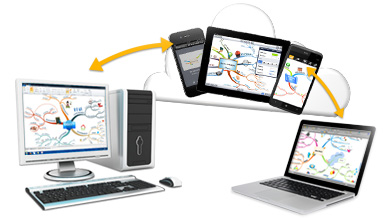 iMindMap Cloud
The glue that holds it all together – iMindMap Cloud stores your maps and allows you to access, edit and share them in iMindMap mobile and web apps and iMindMap on your desktop if you have it.
Remember when you had to carry all your files around on floppy discs? How times have changed…Enjoy faster access and travelling light with iMindMap Cloud.
Contacts & Sharing
We're better when we're together, so with iMindMap Cloud & Mobile you can connect with fellow users and share your Mind Maps.
Allow your Contacts to view your maps, or if you want their input, let them edit too. Any changes will be synced so you all have the most up to date versions.
You can even create Contact Groups to share maps with your whole team or class in one click.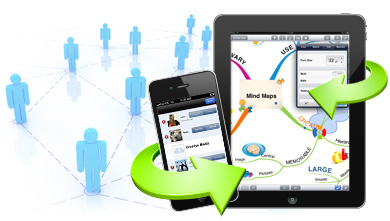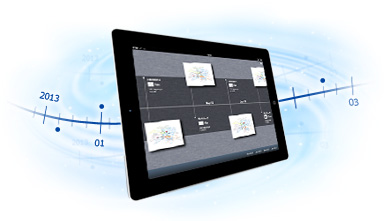 WayBack
Ever lost a vital piece of information by accident when you edited a Mind Map? Worry no more as WayBack stores the entire history of your synced maps.
Browse a map's revisions on WayBack's unique timeline to see how it evolved, or revert to an older version by going 'WayBack' in one click.
*Accessible through iMindMap mobile apps, iMindMap for Web and iMindMap desktop for users with an iMindMap Cloud & Mobile subscription.
Premium iMindMap Mobile & Web Apps
We make all of our iMindMap apps free to use with basic features, but they have a lot of powerful Mind Mapping features waiting to be unlocked.
Subscribers to iMindMap Cloud & Mobile can log into the iMindMap for Web app or iMindMap mobile apps and access the full feature sets.
Deliver presentations from your iPad, or a client's; export Mind Maps as PDF images from your web browser or take photos on your Android phone and insert them straight into your map. See the full feature list

Get a 12 month subscription:
Want iMindMap Cloud & Mobile for your school or business? We offer great multi-user discounts, just contact our Sales Team today.