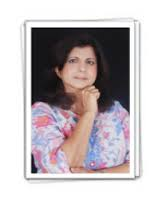 Ritu Advani
USA and India
ThinkBuzan Licensed Instructor in Mind Mapping, Creativity, Innovation and iMindMap
AREAS OF EXPERTISE
*Coordination skills
*Organizing balance skills- managing stress and promoting wellbeing both at home and at work
* Management skills
*Relationship skills
*Powerful communication – enhancing communication to make a positive difference and improve confidence in both the spoken and written words
Ritu enjoys a diverse cultural backgrounds having lived in the US A and India for several years. She is fluent in English, Hindi, Sindhi, and Kutchi… Her outstanding professionalism and rich working experiences have helped her to develop valuable life skills in Business Communication, Leadership & Management, Innovation & Creativity, Client Services and Personal Effectiveness. She believes in the power of maximizing one's potential by improving and changing oneself from within. Her enthusiasm is towards helping other individuals strive to perform better with the equal balance of Emotional and Intelligence IQ.
Having worked in Florida, California and Mumbai, in various fields, she is familiar with diverse cultural thoughts and behaviour.. She tailors one-day courses/ workshops to suit the customers' desired outcomes.
She also provides individual study skills sessions for students of all ages, and INSET days (or half-days) for organizations,. schools and educational establishments. She was the President of American Alumni Association, NGO and is also involved in teaching school children and special needs children in Mumbai presently Studied Interior and Environment Design at UCLA, USA. She has designed and implemented work at various residential and office spaces She studied Travel n Tourism at Florida Atlantic University, USA. She worked as a Travel Consultant for several years in Florida, California ad Mumbai. Ritu graduated at Sophia College, and completed her Bachelor of Arts, History Major.